NUPCO launches its new identity and signs two agreements with the National Guard and the Food and Drug Authority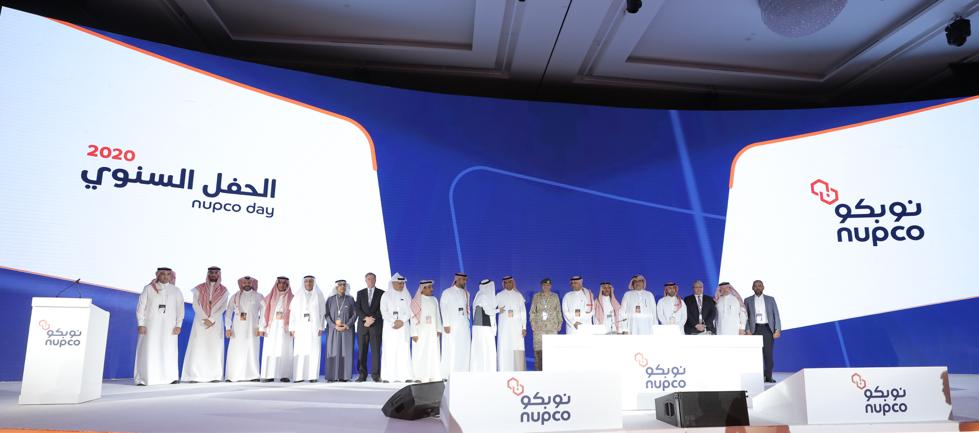 The National Company for the Unified Purchase of Medicines, Devices and Medical Supplies "NUPCO" launched its new identity with the aim of strengthening its role as a major player concerned with supporting and developing the health sector, and increasing aspects of cooperation with local and external partners to enable the community to obtain the highest standards of health services in the government sector in line with the goals of Vision 2030 To build a vibrant community that contributes to building sustainable development.
The launch of the identity identity was featured in the activities of the annual ceremony held by NUPCO today, Thursday, 5 March 2020 at the Crown Plaza Hotel in Riyadh, and the company has been organizing it to enhance internal communication with its employees and to define its strategy for organizing unified purchasing and improving the efficiency of government spending.
The annual ceremony was honored by Nupco's strategic partners in government health agencies and suppliers. The ceremony also witnessed the signing of the comprehensive agreement to assign insurance services for medicines, devices and medical supplies with health affairs at the Ministry of National Guard, and a memorandum of understanding with the Food and Drug General Authority in common areas.
During the ceremony, Mr. Fahad Al-Shibl, CEO of Nupco, delivered a speech in which he welcomed the guests, representatives of the participating parties and the media, expressing his happiness at launching the new identity, which represents a new stage in Nupco's path towards developing health services in the government sector. He also expressed his happiness by signing two agreements with the Ministry of National Guard and the Food and Drug General Authority, appreciating their support for Nupco's efforts to organize unified procurement in line with the state's efforts to enable government purchases to support the goals of spending efficiency and improving health care in the Kingdom.
Al-Shibl revealed a package of accomplishments for Nobco until 2019 that included organizing 136 competitions in which 54 government agencies participated, and the share of national factories accounted for 27% of the total value of these competitions for medicines, devices and medical supplies, in addition to 24 competitions currently being worked on. Al-Shibl also reviewed Nubco's efforts to develop a unified electronic directory for medical items for all agencies in the various medical sectors, and its success in providing 21,000 medical items until 2019. Nupco has also succeeded in developing its logistic services by activating inventory management through 6 central warehouses that accommodate 90 thousand pallets and are fed through 754 A connection point during which 32200 medical items were transferred with a time average not exceeding 48 hours.
Al-Shibl explained that Nubco is based on an infrastructure with modern technologies that enhance digital transformation and achieve business efficiency. Also, NUPCO relies on qualified national talent that manages all operational and administrative operations, as job localization rate jumped to 85% until 2019.
Al-Shibl affirmed that Nubco continues to offer innovative programs similar to the Safati initiative, which is currently cooperating with more than 1500 private pharmacies, and has provided 1.5 million prescriptions from 4 hospitals and 757 primary health care centers, through 15 thousand user accounts. In addition to the electronic market platform that provided more than 690 purchase orders and 3223 medical products, at a value of 35.7 million riyals.
On his part, Mr. Sultan Al Murshid, General Manager of Marketing and Corporate Communication at NUPCO, pointed out the importance of the new identity in defining the company's brand and enhancing its value as an effective national facility that supports the goals of Vision 2030, noting the importance of the annual ceremony in enhancing communication with success partners in the media and related sectors and building partnerships that stimulate The private sector supports local content by enabling government procurement and encouraging investments.
It is noteworthy that "NUPCO" was established with the aim of providing medicines, devices and medical supplies through a unified procurement system for the benefit of government health sectors, in addition to transportation and storage operations of high quality and efficiency, and is wholly owned by the Public Investment Fund.
NUPCO launches its new identity and signs two agreements with the National Guard and the Food and Drug Authority