NUPCO partners with Imam Abdulrahman bin Faisal University to provide integrated medical services to King Fahd University Hospital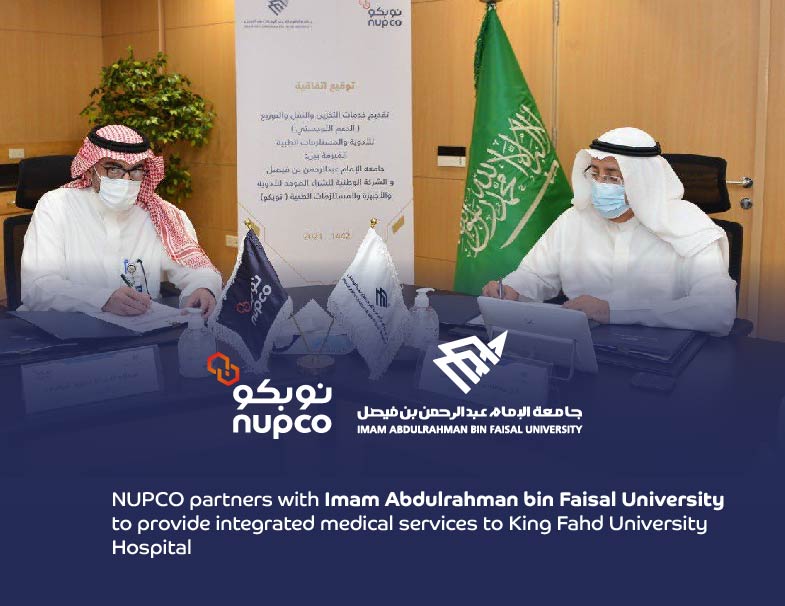 NUPCO partners with Imam Abdulrahman bin Faisal University to provide integrated medical services to King Fahd University Hospital
Dammam, August 2021: NUPCO, the leading provider of healthcare products in the Kingdom of Saudi Arabia, wholly owned by the Public Investment Fund (PIF), announced the signing of a cooperation agreement with Imam Abdulrahman bin Faisal University. According to the agreement, the company will provide healthcare products and logistics support services, including medicines and medical needs, to the patients of the King Fahd University Hospital affiliated with the university.
NUPCO said that the agreement comes within its partnerships with the government health sector in line with the efforts of the Kingdom's healthcare system to provide the best products and services to patients, citizens, and residents.
Under the agreement, NUPCO will provide King Fahd University Hospital in Dammam with pickup services from suppliers, storage in the company's warehouses, transportation and distribution of medicines, devices, and medical supplies, medical inventory management, medical warehouse management, electronic logistics support systems, and connectivity systems. The company will employ state-of-the-art technologies and follow the highest approved quality specifications in providing these services, ensuring speedy and safe supply in addition to delivering advanced healthcare services that keep pace with the Kingdome's aspirations to achieve community safety and improve the quality of life.
Welcoming the partnership, His Excellency Dr. Abdullah bin Mohammed Al-Rubaish, President of Imam Abdulrahman bin Faisal University, said that the agreement serves a wide spectrum of the society, adding that it is consistent with the Kingdome's efforts, may Allah protect it, to enhance the health security and the safety of the citizens and residents. "King Fahd University Hospital looks forward to making full use of the distinguished services provided by NUPCO as a national company that provides healthcare products conforming with the latest technologies and international standards," he said.
NUPCO operates according to an integrated and harmonious health system that aims to develop the healthcare sector and provide optimal services. It collaborates with the relevant authorities to unify drug procurement channels and explore opportunities to help organize the pharmaceutical procurement sector and use modern technologies that increase quality, enhance transparency, support availability, reduce waste, and contribute to raising the efficiency of public spending as well as the level of implementation of logistics work.
-Ends-
NUPCO partners with Imam Abdulrahman bin Faisal University to provide integrated medical services to King Fahd University Hospital