NUPCO signs 12 framework agreements with suppliers in cooperation with EXPRO and LCGPA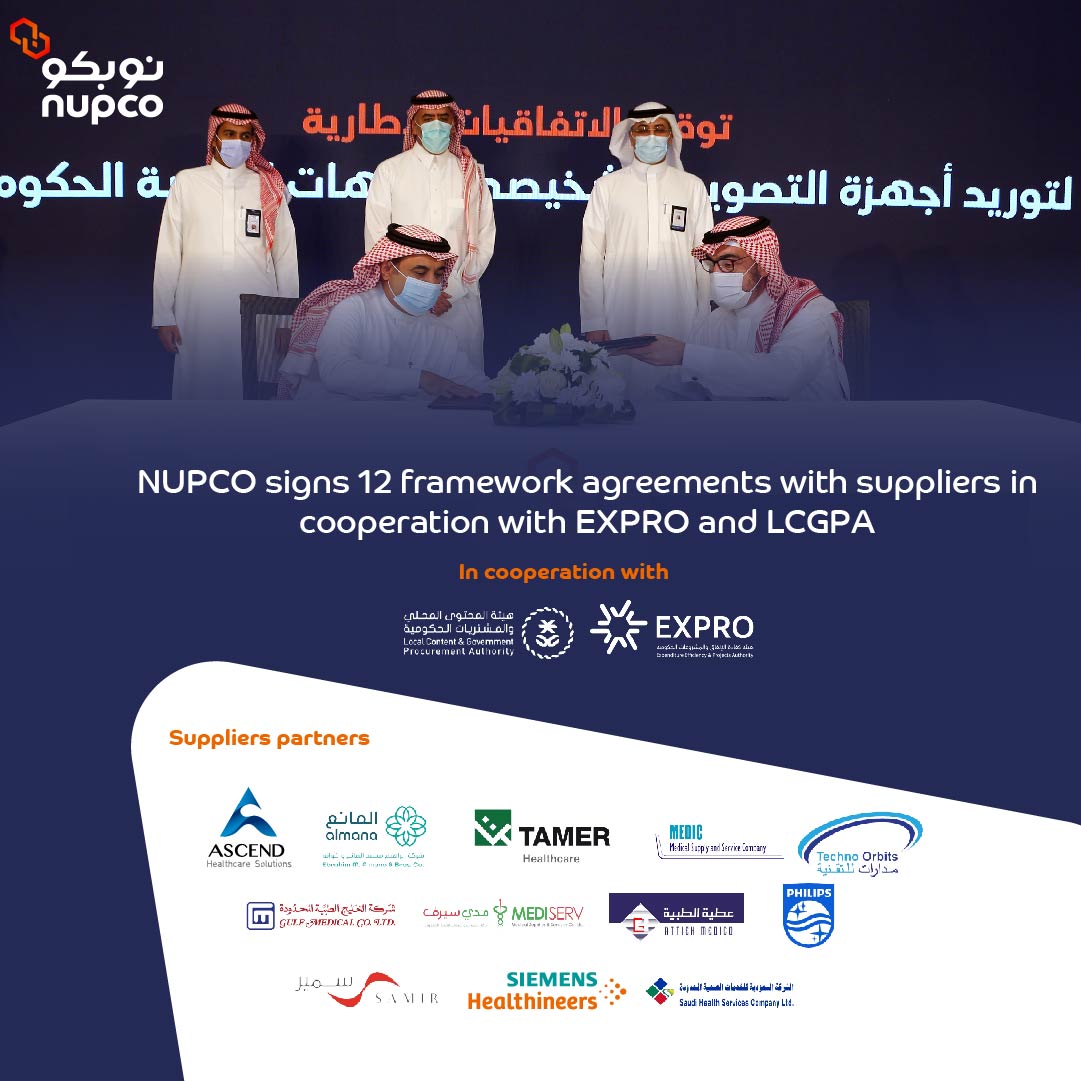 NUPCO signs 12 framework agreements with suppliers in cooperation with EXPRO and LCGPA
Riyadh, August 2021: NUPCO, the leading provider of healthcare products in the Kingdom of Saudi Arabia, wholly owned by the Public Investment Fund (PIF), has signed cooperation framework agreements with 12 supplier partners to provide diagnostic imaging devices to hospitals and government health centers. The agreements are part of the company's efforts to provide the government health sectors with drugs, devices, medical supplies, and high-quality medical services according to the highest global standards.
The suppliers who signed the framework agreement include Ascend Advanced Healthcare Solutions, Siemens Healthcare, Philips Saudi Arabia Healthcare, Farouk, Maamoun Tamer & Company, Medical Supplies & Services Company, Attia Medical Equipment Company, Samir Trading & Marketing, Al-Khaleej Medical Company, Ebrahim Mohammed Al-Mana & Brothers Company, National Equipment & Services Company, Saudi Health Services Company, and Madarat Technology Company.
These contracts are part of the joint efforts of NUPCO, the Expenditure Efficiency and Projects Authority (EXPRO), and the Local Content and Government Procurement Authority (LCGPA), aimed at developing framework agreements for unified government procurement and applying global best practices in terms of facilitating and accelerating procurement procedures, standardizing specifications, and mitigating risks through forward planning and standardization of demand mechanisms. Through these, they aim to ensure price protection for similar items, thereby maximizing the benefits in terms of price competitiveness, quality assurance, speed of supply, and covering the needs of the Kingdom's government health sector during normal times and times of crisis. The agreements significantly enhance NUPCO's role in facilitating the efficiency of government expenditure through unified procurement and is in line with the company's efforts to support the Kingdome's endeavors to provide the best healthcare services for citizens and residents.
NUPCO's strategic partnerships with EXPRO, LCGPA, and the public and private sectors are expected to enhance medical services in the government health sector by providing state-of-the-art medical products, thereby achieving sustainable health for the community. The agreements are a step in the right direction to achieve sustainable savings on medical devices through efficient logistics services and transportation as well as improved storage and response times. They will also support the national economy and add to the local content by fulfilling the demand for medical products in the local market and driving further investments in the Saudi healthcare sector.
It is noteworthy that NUPCO cooperates with its partners, including the Ministry of Finance, EXPRO, and LCGPA, to provide technical expertise and enable alignment with the beneficiary government agencies and suppliers. It also has well-established partnerships with government health agencies that benefit the Ministry of Health, the Ministry of Interior, the Ministry of Defense, the Ministry of Education, the Ministry of National Guard, and King Faisal Specialist Hospital & Research Center.
-Ends-
NUPCO signs 12 framework agreements with suppliers in cooperation with EXPRO and LCGPA